News and Events
---
BANCO DE ORO EMPLOYEES ASSOCIATION (BDOEA) Contract Signing
By: Marlon Dela Torre - Sales Manager
Banco De Oro Employees Association and Value Care Health Systems, Inc. reached another milestone last 18 November 2017 when the healthcare renewal of BDO dependents was signed anew.  The contract signing formality was held at the ValuCare Building in Pasig City.

BDOEA officers led by its President Mr. Nestor P. Perez, Executive Vice-President Jeffrey H. Joven, and  Healthcare Committee Chair Ms. Riza S. Gargallo, together with ValuCare EVP and COO Mr. Armando Macalino, spearheaded the signing of the renewal agreement.   It was witnessed by BDOEA Healthcare Committee Officers, namely: Merlie G. Nares (Secretary), Eric D. Latriz (Assistant Secretary), Ma. Concepcion S. Peregrin (Treasurer), Agapito J. Paulate, Jr. (PRO), Members of the Board of Directors Judith S. Banzon, Bryan M. Batara, Francis Thomas M. Vicente, Sheila O. Udarbe, Rogelio S. Lavarias.   Health Well-Being & Resources Unlimited President Ms. Josephine Aguilar, BDOEA Stewards and  ValuCare top and middle management officers also attended the ceremony.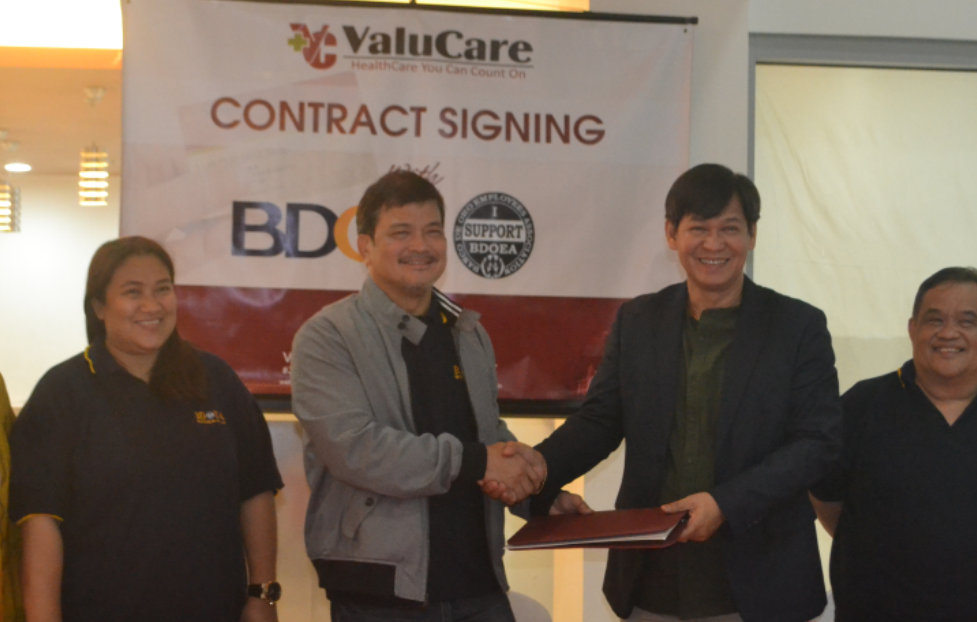 Mr. Macalino humbly acknowledged BDO's renewed trust and support, and pledged to return the favor by radically improving service delivery through various system improvements and innovations lined up in 2018.  His commitment to strengthen the partnership by continuously providing the highest quality care through pro-active managed care approach and improved accessibility was a highlight.

In his response, Mr. Perez assured of BDOEA's continued support not only for ValuCare, but for all BDO principals and dependent-members by way of promoting the highest possible quality of care without sacrificing responsible, prudent and effective utilization management.